Villas with Pools in Annecy
There are hundreds of reasons why choosing a villa with a pool is the best and only option for your next summer holiday. There's nothing quite like stepping out of double bay windows onto warm, summer heated concrete and being able to relax and bathe in your own private area. Booking a villa with a pool in Annecy is the perfect idea not only because many of our Annecy villas come with heated outdoor swimming pools but also breathtaking views of the lake and surrounding mountains.
Just imagine lazing in your villas private garden, a book in your hand, the kids splashing in the pool beside you and views of Lake Annecy filling your line of sight. Sounds perfect, right? It certainly beats staying at a hotel and having the early morning rush to get your towel on the few remaining sun loungers!
We could sit here all day and list the many reasons why we love villas, but instead we have created a useful list of our favourite villas with pools in Annecy for you to choose from. At Annecy Lakeside Holidays, we strive to create unforgettable holidays for all our clients by picking the villa or hotel perfectly suited for them. Let us book your next summer holiday today and email us at info@lakeannecy.com. We can't wait to make your dream holiday a reality.
£500 per night – Suitable for up to 8 guests – 4 bedrooms – Annecy Le Vieux
Situated in the Lake Annecy village of Annecy Le Vieux, House of Isabella comes equipped with a large living and dining area with opens up to a beautiful terrace with garden and swimming pool. Perfect for a large family looking for some adventure, this 4 bedroom complex also has a ping pong table and 5 bikes that can be used during your stay.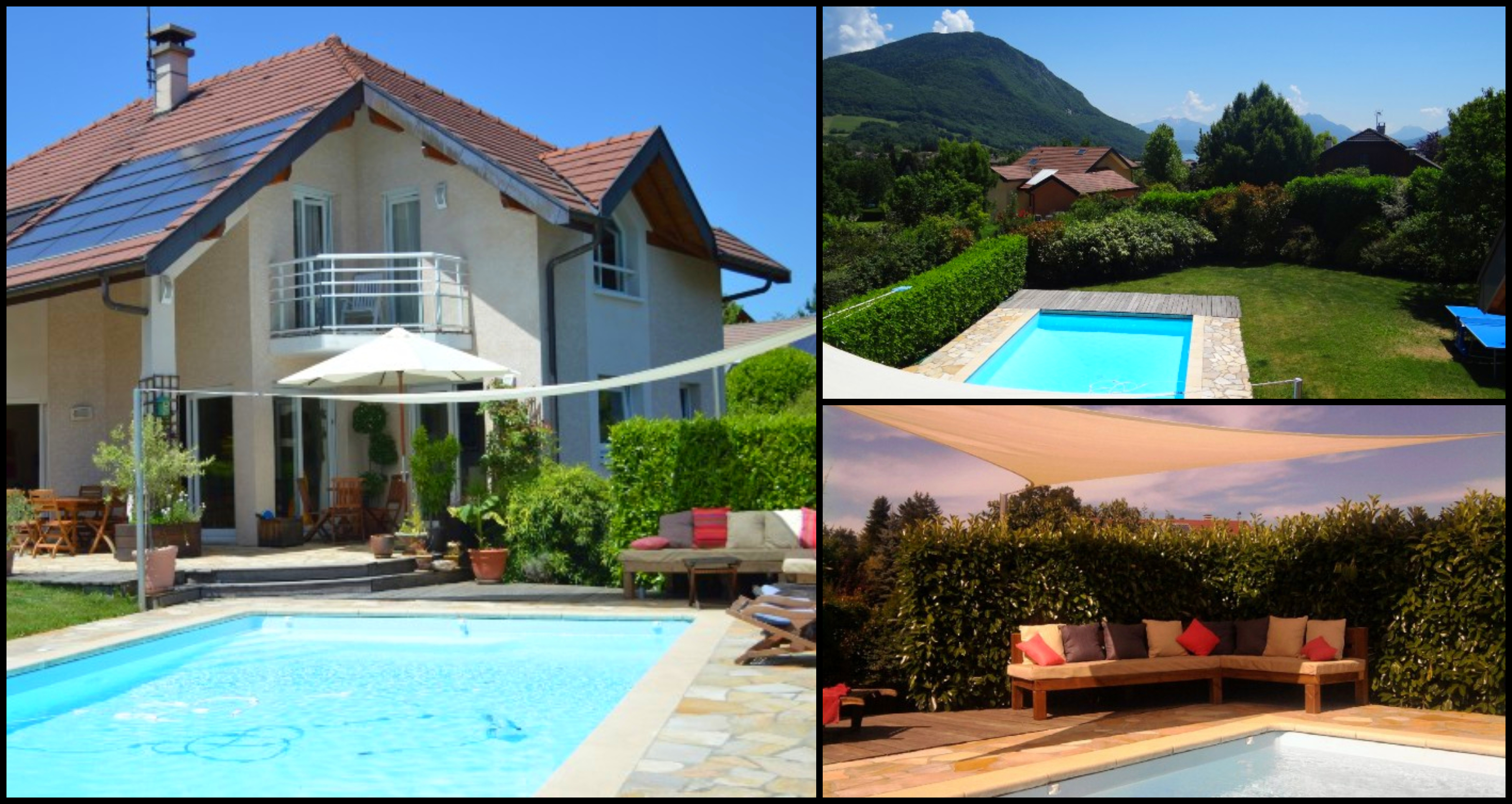 £1,000 per night – Suitable for up to 10 guests – 5 bedrooms – Veyrier du Lac
Peak Villa is ideally located in the village of Veyrier du Lac on the east shore of Lake Annecy. This superb and historical villa is full of character and has been recently completely renovated with modern interiors. As well as an outdoor swimming pool, the property has a large enclosed garden and breathtaking lake views.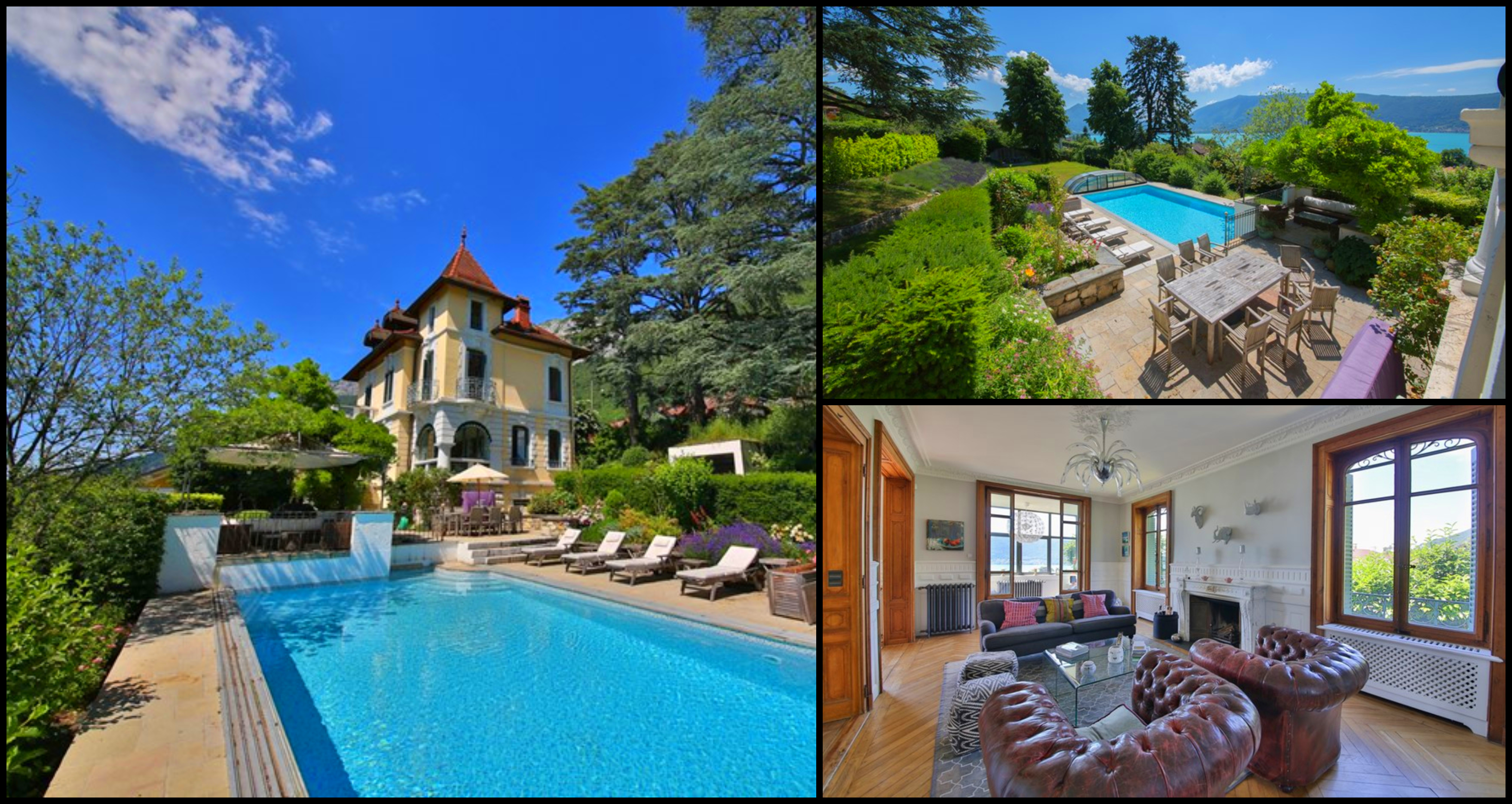 £700 per night – Suitable for up to 10 guests – 5 bedrooms – Menthon St Bernard
Menthon St Bernard is one of our favourite villages in Lake Annecy since it has all the ingredients to make a perfect summer holiday. Menthon Pool Villa is located high up in the hills offering stunning views of the mountains and alpine lake as well as boasting an outdoor swimming pool, large dining area and superb kitchen!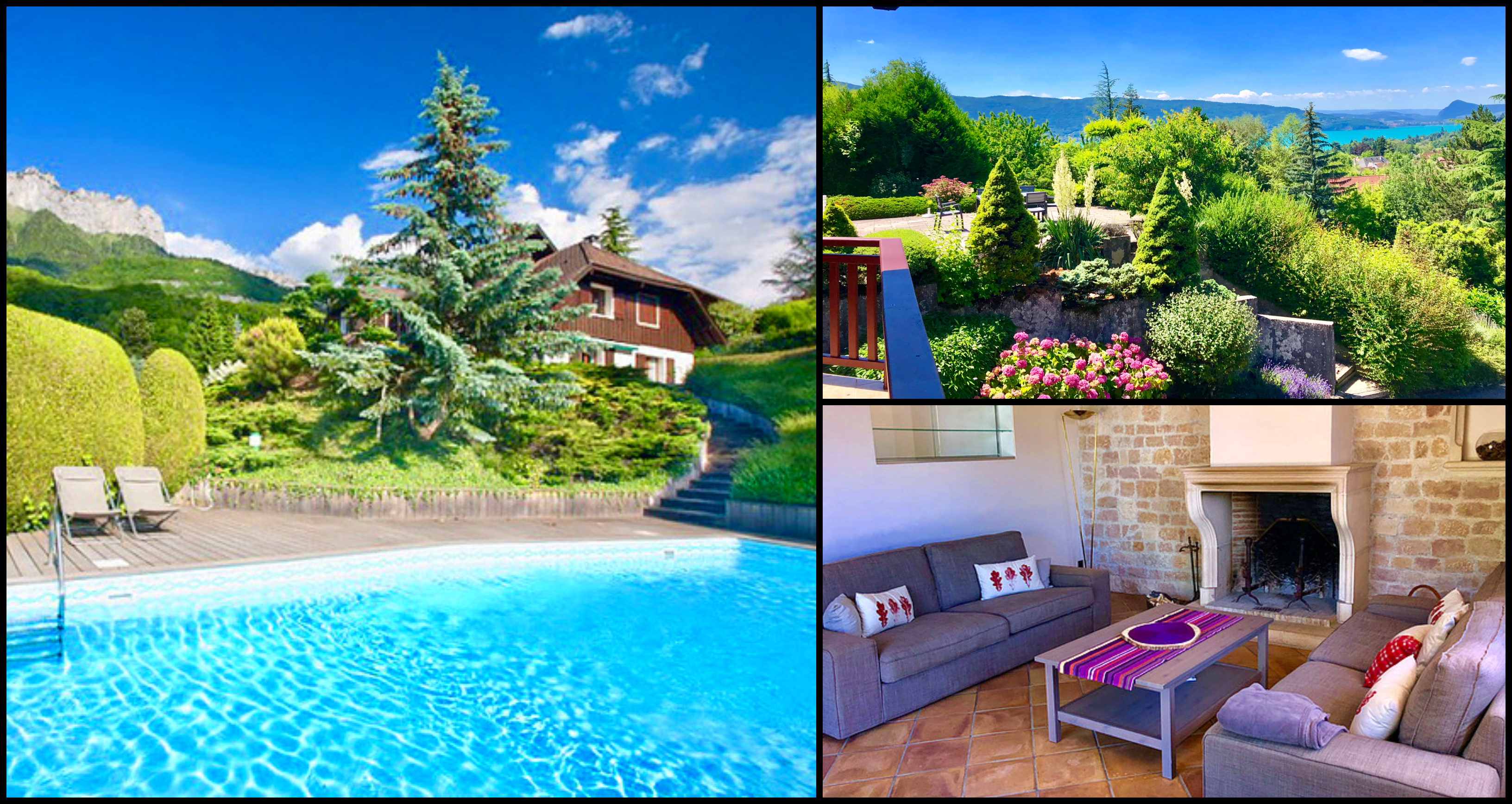 £1,500 per night – Suitable for up to 12 guests – 6 bedrooms – Tallories
The perfect property for a large get together, Egalite Villa is a gorgeous, contemporary complex with 6 bedrooms, 5 bathrooms and breathtaking lake views. The large outdoor swimming pool is wonderfully heated while inside, the villa is fully equipped with a modern fireplace, indoor elevator, gas barbeque and cinema room!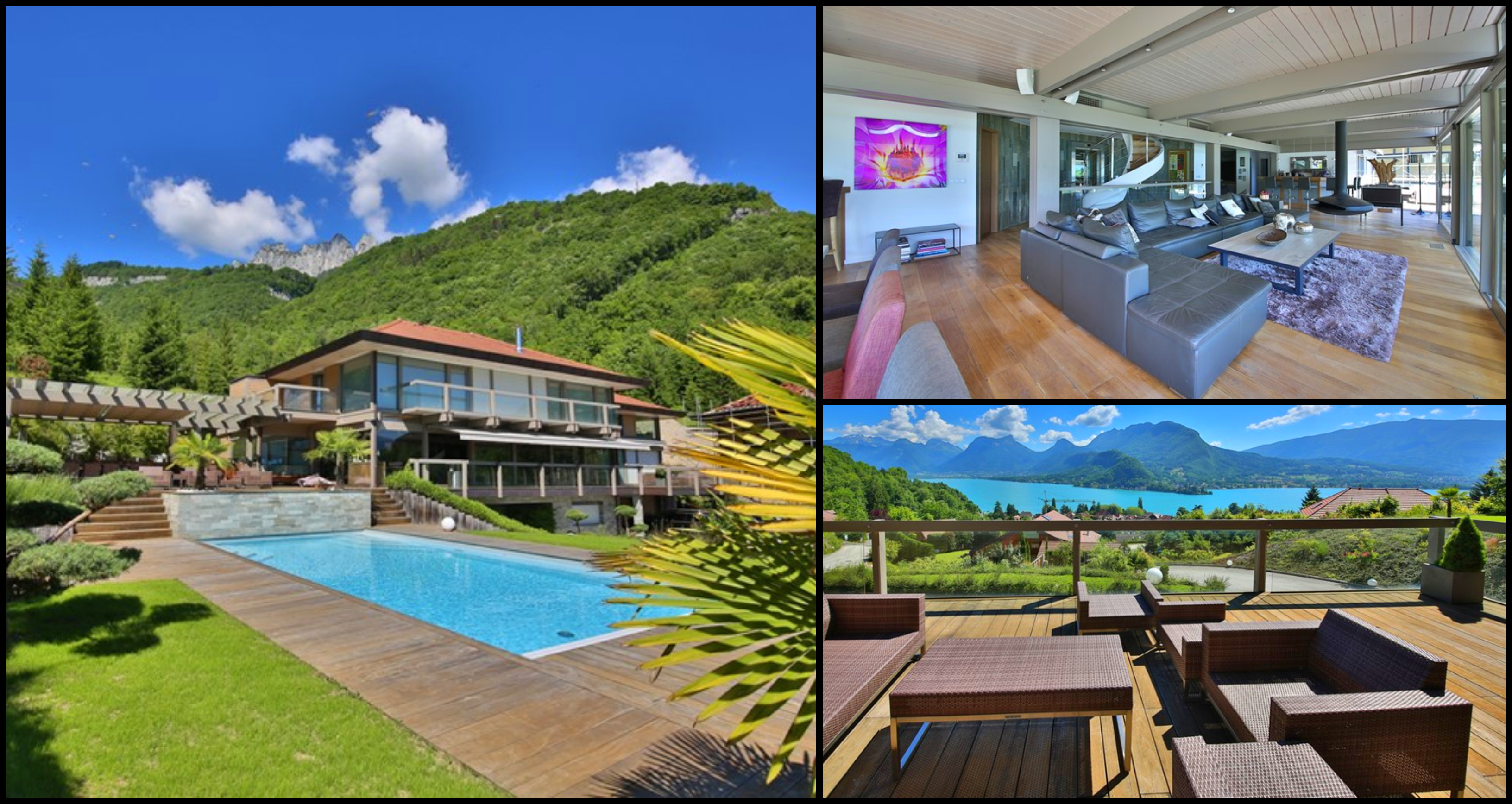 £600 per night – Suitable for up to 8 guests – 4 bedrooms – Bout du Lac
Designed especially for a dream family summer holiday, Villa Martha is perfectly equipped with children in mind with a large outdoor pool, enclosed garden and a cycle track right on the doorstep which takes you all the way to Annecy's old town. There are also two highly rated restaurants just a few minutes' walk from the property as well as a separate garden suite which can accommodate an extra couple or a nanny.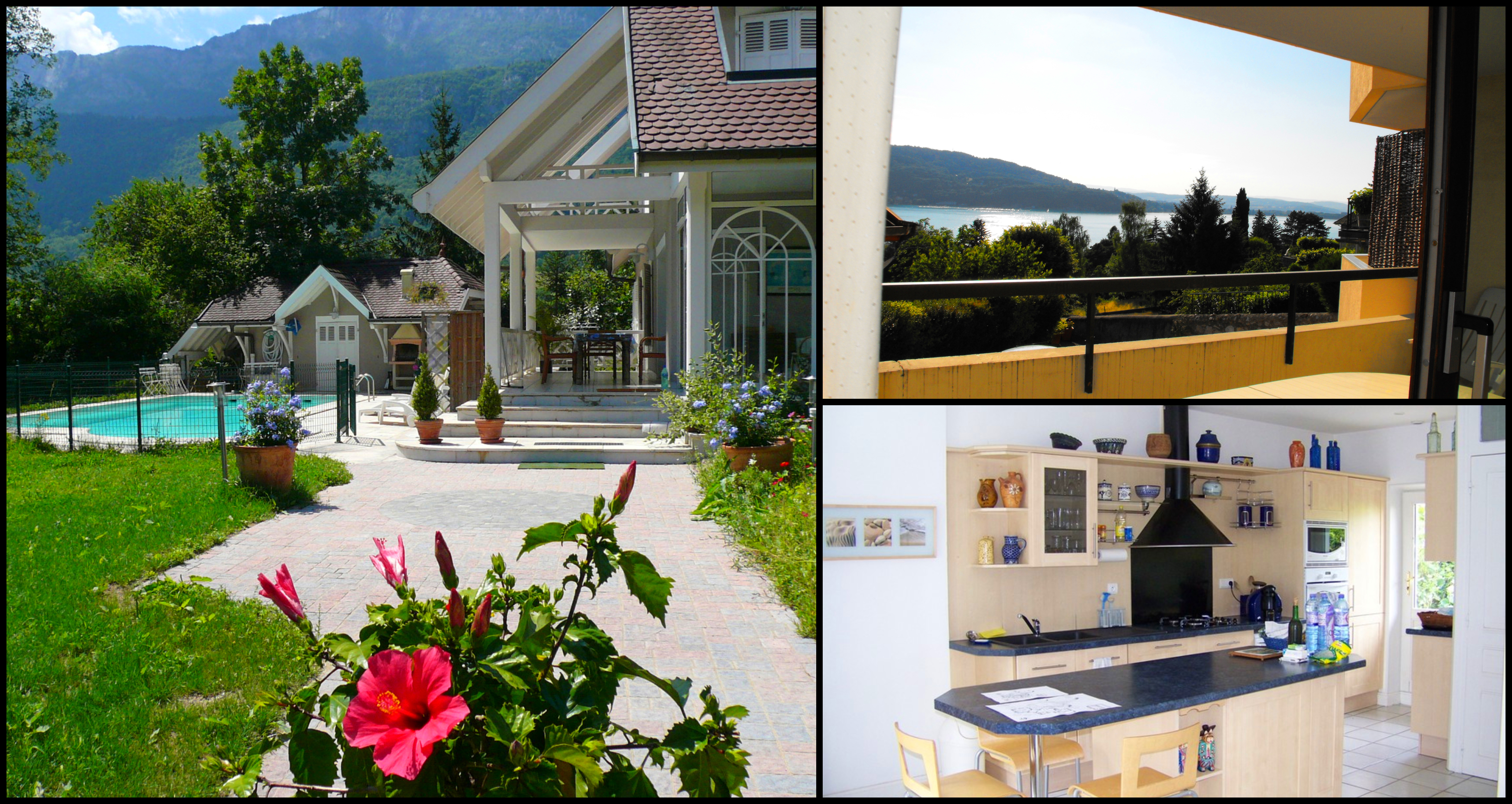 £1,500 per night – Suitable for up to 10 guests – 5 bedrooms – Sevrier
Suitable named, this luxurious and contemporary villa sits high up in the hills boasting impressive views of the lakes and mountains. Designed to easily accommodate up to 10 people, Hollywood House offers everything a large group would need from spiral staircases, panoramic balconies, an outdoor swimming pool, a sun deck and even a home cinema room!